Channel P101tv Help
P101tv Help Home

Uploads
Uploading Videos
Uploading Pictures
Uploading Avatars
The Importance of Tags

The Importance of Tags

What are Channel P101tv Tags
Channel P101tv uses a system of 'tags' for making pictures, videos and blogs easier to find and categorise. Tags are used with uploaded pictures, videos and blogs. Tags are like keywords or labels that you add to a video, photo or blog to make it easier to find later. You can add a tag to your content with phrases like "Porsche 911 RSR on Track at Silverstone." Later if you look for any pictures, video or blogs pictures of "RSR", you can just click that tag and get all the pictures, videos or blogs that have been tagged to include the word "RSR".

How do I decide on Tags for my Content
It's up to you which words or phrases you'd like to include as tags for your pictures, videos or blogs. But always bear in mind that these tags will be the key words that are used when searching for content later. So use as many tags as necessary to capture all the key information.


As an example, for this picture you might include tags such as 'Porsche', '911', '1974 Coupe', 'Black', 'Classic', 'Airfield', 'Fuchs'. There are others you could include such as details of the engine, interior, location the picture was take. It's completely up to you.







How to Add Tags
There's are two ways in which you can add Tags to your content.
- When you first upload your video or picture or create your blog you have the opportunity to enter your chosen Tags; or
- When viewing asny of your existing Pictures, Videos or Blogs you can click the "Edit" button. This will open a small pop up window in which amongst other things you can change, delete or add new tags.
Remember: Tags should be more than 1 word and separated by spaces - No commas.

Searching with Tags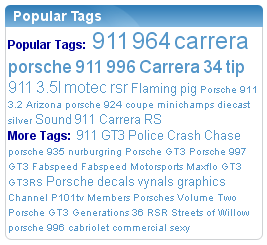 You can use Tags to quickly find any pictures, video or content that your looking for. On every page of the Channel P101tv website you'll find a "Popular Tags" panel as shown in the picture. This panel displays the Tags of the most popular content viewed by other P101tv users.

The larger the Tags the more popular they have been. By clicking on any Tag in the Popular Tag panel, the pictures, or videos, or blogs (depending on which page of the website you are viewing) will be listed that have been tagged in that way.

So in the example shown, by clicking on the tag "Carrera" all videos that have been tagged with the word "Carrera" will be listed.





You can also use the search bar at the top of the Channel P101tv Home page to search for videos, pictures and blogs using the tag system. Simply type in the keyword or "Tag" into the "Search Channel" field, then use drop down menum to choose videos, pictures or blogs and click "Search". The results will display all pictures, videos, or blogs that have been tagged with the keyword you are interest in.
If you can't find what your looking for then, please
contact us
.